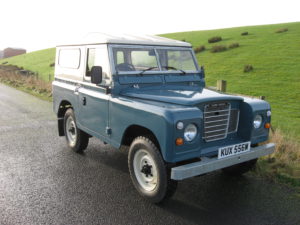 Top Quality Land Rover Series Body Panels
Our Top Quality Land Rover Series Body Panels are BRITISH engineered; Guaranteed to fit properly and look correct.
Our Panels are as close to the original as possible. We believe this is the most important aspect when restoring a Classic Land Rover.
We will only supply what we will fit ourselves.  We don't like wasting time trying to fit poor panel work and we don't expect you to.  After over 45 years in the Land Rover world, Dave will only sell the best.
2016 saw us finally doing what you wanted us to do… putting our panels online, so that you can buy them in between the shows.  A growing number of you have already seen the quality of our panels and bought them immediately at the Land Rover Shows,  along with our paint throughout the year, here is the result of our efforts.  A long way to go to get it right yet, but we are striving for perfection.
If a panel is not in stock you won't find it listed as being available. However, please call us to register your interest and you will be notified as soon as they are back in stock. There aren't many parts on this site, but as we find and develop more superb aftermarket items to be passionate about, Paintman Panels will bring them into stock.
If you are inquiring from the USA, visit Rovers Norths https://www.roversnorth.com/ . This is our official outlet for products – we do not sell directly to the USA.
Don't forget to get your ultra high quality paint for your panels.  Do you need any further information?  If so talk to us on 01777 710100 or email Sales@Paintman.co.uk
 We take pride in looking after our customers ensuring that your dealings with us are always a pleasurable experience.