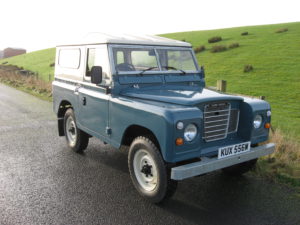 Top Quality Land Rover Series Body Panels
Our Top Quality Land Rover Series Body Panels are the finest BRITISH engineered panels in the United Kingdom.  They aren't be the cheapest in the world, but they will fit properly and look correct, which to us is far more important!!!  The one thing we have always been very particular about when restoring a Land Rover, is that everything needs to be as close to the original as possible.  Out of true panels that are a stinker to fit don't come into our world.
2016 saw us finally doing what you wanted us to do… putting our panels online, so that you can buy them in between the shows.  A growing number of you have already seen the quality of our panels and bought them immediately at the Land Rover Shows,  along with our paint throughout the year, here is the result of our efforts.  A long way to go to get it right yet, but we are striving for perfection.
If a panel has issues fitting, then you won't find it here.  If it is not in stock you also won't find it listed as being available.
 We will only supply what we will fit ourselves.  We don't like wasting time trying to fit poor panel work and we don't expect you to.  After over 45 years in the Land Rover world Dave knows what is good and what isn't.
There aren't many parts on this site, but as we find and develop more superb aftermarket items to be passionate about, Paintman Panels will bring them onto stock.
Don't forget to get your ultra high quality paint for your panels.  Do you need any further information?  If so talk to us on 044 (0) 1777 710100 or email Sales@Paintman.co.uk
 We take pride in looking after our customers ensuring that your dealings with us are always a pleasurable experience:
In 2013 Paintman Paints Ltd was awarded the World Host accolade for Customer Excellence and Quality of Service.
In 2015 we were nominated for Best Customer Experience in the North Nottinghamshire Business Awards.
In 2016 we were awarded the 2016 Best Micro Business in the North Nottinghamshire Business  Awards  Google+